url of this page: http://www.passingdb.com/simulators.php?id=1
JoePass!
JoePass! is a juggling simulator whose creator is Wolfgang Westerboer (JoePass! is free for personal use, you can contact Wolfgang for further details). It's quite a powerful animator since it can represent complex passing patterns, runarounds and has a causal diagram editor built with it. I use it a lot to help you get a visual description of the patterns.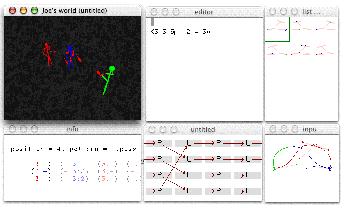 Here are some more details:

A juggling sequence (a passing pattern for instance) is represented by a text file (that you can open with any text editor) with the ".pass" extension (as ".doc", ".exe" ..). JoePass! allows you to open these files (and also all text files).
In a ".pass" file, you may find some not too nice code, but it all comes down to siteswap notation with added positions and movement instructions for the jugglers (if necessary). Sometimes you may find other instructions, but since...
You don't need to have a look at the files. All you need to do is open the files with JoePass!, and there it is, you have your animation. You can adjust quite a few settings with your mouse (speed, view point, ... - read the user manual).
JoePass! is now delivered with the cdew2, a wonderful editor for causal diagrams. I strongly advise to read the user manual, but after that, no worries, you can do pretty much everything.
All you need to do is download the ".pass" files on the pages where they are available. You should be able to open them directly with JoePass! in no more time than a mouse-click (set JoePass! as the default application for ".pass").
You can also download the "joepass-passingdb.zip" which has all the patterns of the site (and more). All the ones from the rhythms section should be openable via the causal editor.
---
Download JoePass!: