url of this page: http://www.passingdb.com/feeds.php?id=7
Alan Anguish
Theses rhythms are slow-fasts with feeder and feedees on ultimate (1-count). Therefore, the feedees have to juggle slowly. Here are the 8, 9 and 10 clubs versions.
Alan's Anguish, 8 clubs
The feeder's sequence is : diagonal, diagonal, tramline, tramline or - to say it differently - outside, outside, inside, inside.
For both feedees it's relatively easy ; each is always aiming toward the same hand (in order to have 4 clubs on each side).
Alan's Anguish, 8 clubs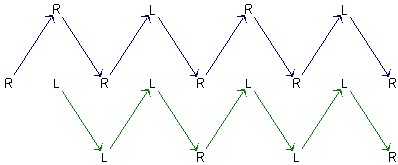 Alan's Anguish, 9 clubs
Alan's Anguish, 9 clubs


Alan's Anguish, 10 clubs
Alan's Anguish, 10 clubs