Popcorn feeds
Introduction
The purpose of this page is to give some feed patterns where the feedees or the feeder are doing a popcorn rhythm.

You'd better be familiar with the whole popcorn family and especially with the 6-count popcorn, the 3-count and the 5-count popcorn.

More details may follow, but for now, you're alone with the causals.
---
Feedees in popcorn
feeder in 3-count, feedees in 6-count popcorn
10 clubs

feeder in PPS, feedees in 3-count popcorn
10 clubs


11 clubs


feeder in 2-count, feedees in 4-count popcorn
10 clubs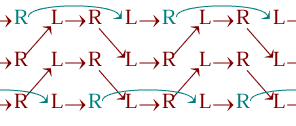 11 clubs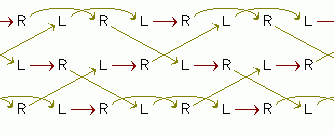 12 clubs


feeder in 4-count, feedees in 8-count popcorn 5551
10 clubs


---
feeder et feedees in popcorn
feeder in 3-count popcorn , feedees in 6-count popcorn
10 clubs
11 clubs


feeder in 4-count popcorn , feedees in 8-count popcorn 5551
11 clubs


---
For some added fun
feeder in whynot, feedees in 5-count popcorn
10 clubs


Resources