Siteswap sharing and feed passing patterns
(As posted on rec.juggling, February 2001)
This article presents a simple way to deduce (k+1)-people (3k+n)-clubs feed passing patterns from n-clubs solo siteswaps. A non-exhaustive series of feed passing patterns is constructed by this method as an application: included are many popular feeds, such as the shower and ultimate feeds, as well as some lesser known exotic patterns of the hurried and slow-fast variety. The only essential restriction is that the selfs of the feedees have to be ordinary singles of siteswap value 3 : you better bring your own popcorn then, if you wish to proceed (and perhaps some aspirin too :)).
Start with everyone juggling solo (but perhaps not in phase): one juggler, the feeder, is juggling a n clubs solo siteswap, while the other jugglers, the feedees, juggle ordinary 3 clubs cascades. Now, at some point, the feeder can choose not to do a particular solo throw of siteswap value s but to do a pass instead of siteswap value a to some feedee ; the feedee will then reply by a pass of siteswap value b after a delay of d beats. To keep the patterns going without trouble (i.e. drops) it must be that b+d = s and a-d = 3. If passes are done to the same height (an assumption that can be relaxed at will later on, see the 10 clubs PPS feeds below), we get
a = b = (s+3)/2 and d = (s-3)/2
That's about it basically. The main interest of this method is that it reduces the search of patterns that follow a specific rhythm for the feeder - say PPS - to the examination of simple solo siteswaps - ss'3 in the previous case. Therefore the patterns to follow will be classified according to the feeder's rhythm: shower, ultimate, etc ...
All passing patterns are written in the siteswap syntax of Wolfgang's irrelevant :) juggling simulator JoePass! available at : http://www.koelnvention.de/software/joepass/index.html (hey, Wolfie I haven't received your check yet, are you sure it's in the mail??). If you can't juggle them, you can at least watch them!
A remark about the directions of the passes (straight or crossing): they depend on which hands are used first by the jugglers. The default hand pattern in JoePass! has everybody starting from the right hand but you can change this by using the #jugglerStartLeft n switch (n: number of juggler you wish to change). A similar remark holds for outside passes versus inside passes (see e.g. the 10 clubs ultimate feed below).
Let us start with the most popular feeds:
Shower feeds
3333 and passing on the first and third throws --> a = 3 , d = 0
!9 clubs shower feed
#cpn
< 3p2 3 3p3 3 | 3p1 3 3 3 | 3 3 3p1 3 >
Similarly 5353 --> a = 4 , d = 1
!10 clubs shower feed
#cpn
< 4p2 3 4p3 3 | 3 4p1 3 3 | 3 3 3 4p1 >
(Add #jugglerStartLeft 2,3 to make the feedees pass from the right hand as usual)
etc ... you get the picture: 7373 --> a = 5 , d = 2
!11 clubs shower feed
#cpn
< 5p2 3 5p3 3 | 3 3 5p1 3 | 5p1 3 3 3 >
ultimate feeds
33 and passing on all beats --> a = 3 , d = 0
!9 clubs ultimate feed
#cpn
< 3p2 3p3 | 3p1 3 | 3 3p1 >
44 --> a = 3.5 , d = 0.5
!10 clubs ultimate feed, aka gorilla
#extendedSiteswap #cpn
#delayMode - #jugglerDelay 2 0.5 #jugglerDelay 3 0.5
< 3.5p2 3.5p3 | 3.5p1x 3 | 3 3.5p1x >
(Since juggler 2 is on the left of juggler 1 in the default position, you may wish to add #jugglerStartLeft 1 to have the feeder make outside passes as usual)
55 --> a = 4, d = 1
!11 clubs ultimate feed
#cpn
< 4p2 4p3 | 3 4p1 | 4p1 3 >
PPS feeds
Since there is no 4 clubs siteswap of the form ss'3 with s=s', it is clear that there can be no symmetric 10 clubs PPS feed. Many assymetric patterns are possible however.
453 and passing on the first two beats would yield a = 3.5 , d = 0.5 for one feedee and a = 4, d = 1 for the other feedee, resulting in:
!bizarre 10 clubs PPS feed
#extendedSiteswap #cpn
#delayMode - #jugglerDelay 2 0.5
< 3.5p2 4p3 3 | 3.5p1x 3 3 | 3 3 4p1 >
This pattern might feel a bit strange to the feeder: the passes are very close to each other but different nevertheless, it is therefore perhaps safer (more stable) to change the delay of one feedee. There are four possibilities:
!feeder's single passes 10 clubs PPS feed
#extendedSiteswap #cpn
#delayMode - #jugglerDelay 2 0.5 #jugglerDelay 3 0.5
< 3.5p2 3.5p3 3 | 3.5p1x 3 3 | 3 4.5p1x 3 >
!feeder's double passes 10 clubs PPS feed
#cpn
< 4p2 4p3 3 | 3 3p1 3 | 3 3 4p1 >
!feedees' single passes 10 clubs PPS feed
#extendedSiteswap #cpn
#delayMode - #jugglerDelay 2 0.5 #jugglerDelay 3 0.5
< 3.5p2 4.5p3 3 | 3.5p1x 3 3 | 3 3 3.5p1x >
!feedees' double passes 10 clubs PPS feed
#cpn
< 3p2 4p3 3 | 4p1 3 3 | 3 3 4p1 >
The 4 clubs siteswap 633 provides yet another completely different pattern:
!disconnected 10 clubs PPS feed
#extendedSiteswap #cpn
#delayMode - #jugglerDelay 2 0.5
<4.5p2 3p3 3 | 3 4.5p1x 3 | 3 3p1 3>
The symmetric 11 clubs PPS feed is well known:
663 -->a = 4.5 , d = 1.5
!11 clubs PPS feed
#extendedSiteswap #cpn
#delayMode - #jugglerDelay 2 0.5 #jugglerDelay 3 0.5
< 4.5p2 4.5p3 3 | 3 4.5p1x 3 | 3 3 4.5p1x >
More exotic patterns
(the feeder is on the middle line in the causal diagrams) Start with the feeder doing sync crossing (!) 4 clubs in singles which I denote by (3* , 3*), see http://pogo5.free.fr/juggling/hurries.html for details on hurried mhn* notation, then let him pass all right hand throws --> a = 3 , d = 0
!Hurried 10 clubs sync shower feed
#mhn* #cpn
< (3* , 3p2*) (3* , 3p3*) | (- , 3p1) (3 , -) | (3 , -) (- , 3p1) >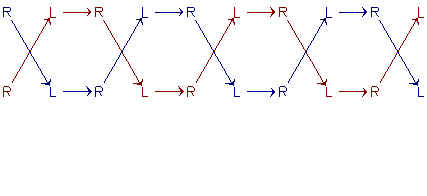 One can add a club to the previous pattern (well, at least theoretically) by starting from the 5 clubs hurried half shower (3* , 4x*) --> a = 3.5 , d = 0.5
!Hurried 11 clubs sync shower feed
#mhn* #cpn
#delayMode - #jugglerDelay 2 0.5 #jugglerDelay 3 0.5
< (3* , 3.5p2*) (3* , 3.5p3*) | (- , 3.5p1) (3 , -) | (3 , -) (- , 3.5p1) >

Similarly, starting from the hurried 4 clubs sync solo pattern (3* , 4)(- , 3*)(4 , 3*)(3* , -) and passing the high throws --> a = 3.5 , d = 0.5
!Hurried 10 clubs "sync 3 count" feed
#mhn* #cpn
#delayMode - #jugglerDelay 2 0.5 #jugglerDelay 3 0.5
< (3* , 3.5p3) (- , 3*) (3.5p2 , 3*) (3* , -) | (3 , -) (- , 3) (3.5p1x , -) (- , 3) | (- , 3.5p1x) (3 , -) (- , 3) (3 , -) >

Getting weirder. Now the feeder is juggling 4 in singles the usual async fountain way and still 2 times faster than the feedees. This pattern can be denoted by 3x* keeping in mind that throws occur every half beat (the tempo is given by the feedees). Passing all throws we get a = 3 , d = 0 and a pattern that can be denoted as:
!10 clubs Alan's Anguish
#mhn* #cpn
#delayMode - #jugglerDelay 1 r 0.5 !delay right hand of J1 by 0.5 beats
#jugglerDelay 3 0.5 !J3 juggles in phase with the right hand of J1
< (3p2* , 3p3*) (3p2x* , 3p3x*) | (3p1x , -) (- , 3p1) | (- , 3p1x) (3p1 , -) >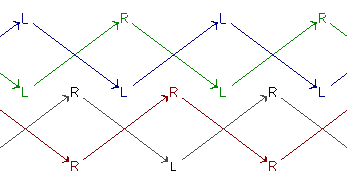 Still crazier and a special dedication to some one-bearded multi-handed British passing guru. To get the usual 9 clubs version of Alan's Anguish, we need the feeder to juggle a 3 clubs cascade 2 times faster than the feedees. Let us (or at least let me!) denote this pattern by 2.5x*, still remembering that throws occur every half beat (2.5 throws should "normally" be rethrown after 2.5 beats, but due to the hurry pointers '*' everywhere, all throws are actually rethrown 1 beat earlier, i.e. after 1.5 beats). Passing all throws we get a = 2.75 (!), d = - 0.25 and:
!9 clubs Alan's Anguish
#mhn* #cpn
#delayMode - #jugglerDelay 1 r 0.5 !delay right hand of J1 by 0.5 beats
#jugglerDelay 2 0.75 #jugglerDelay 3 0.25
#replace a 2.75
< (ap2x* , ap3x*) (ap2* , ap3*) | (- , ap1) (ap1x , -) | (- , ap1x) (ap1 , -) >

Resources